Amit Panghal created history on Friday, becoming the first Indian boxer to enter the summit clash of the men's World Championships, defeating Kazakhstan's Saken Bibbisinov by split decision (3-2) in the semi-final of the flyweight (48kg-52kg) division in Ekaterinburg, Russia.
In the gold medal round, Panghal will be up against the Rio Olympic champion in 52kg category, Uzbekistan's Shakhobidin Zoirov, who defeated France's Billal Bennama in the other semifinal. It will be Panghal's first meeting with Zoirov.
Elsewhere, Manish Kaushik lost his lightweight (57kg-63kg) last-four bout to reigning world champion, Cuba's Andy Gomez Cruz, by unanimous decision (5-0). Kaushik settled for a bronze medal.
In the process, the two also booked their berths at next year's first Olympic qualifier to be held in Wuhan, China in February. The Boxing Federation of India (BFI) has earlier announced that those boxers who win medals at the Worlds will be automatic picks for the qualifiers.
Amit Panghal reaches World Boxing Championships final
00:21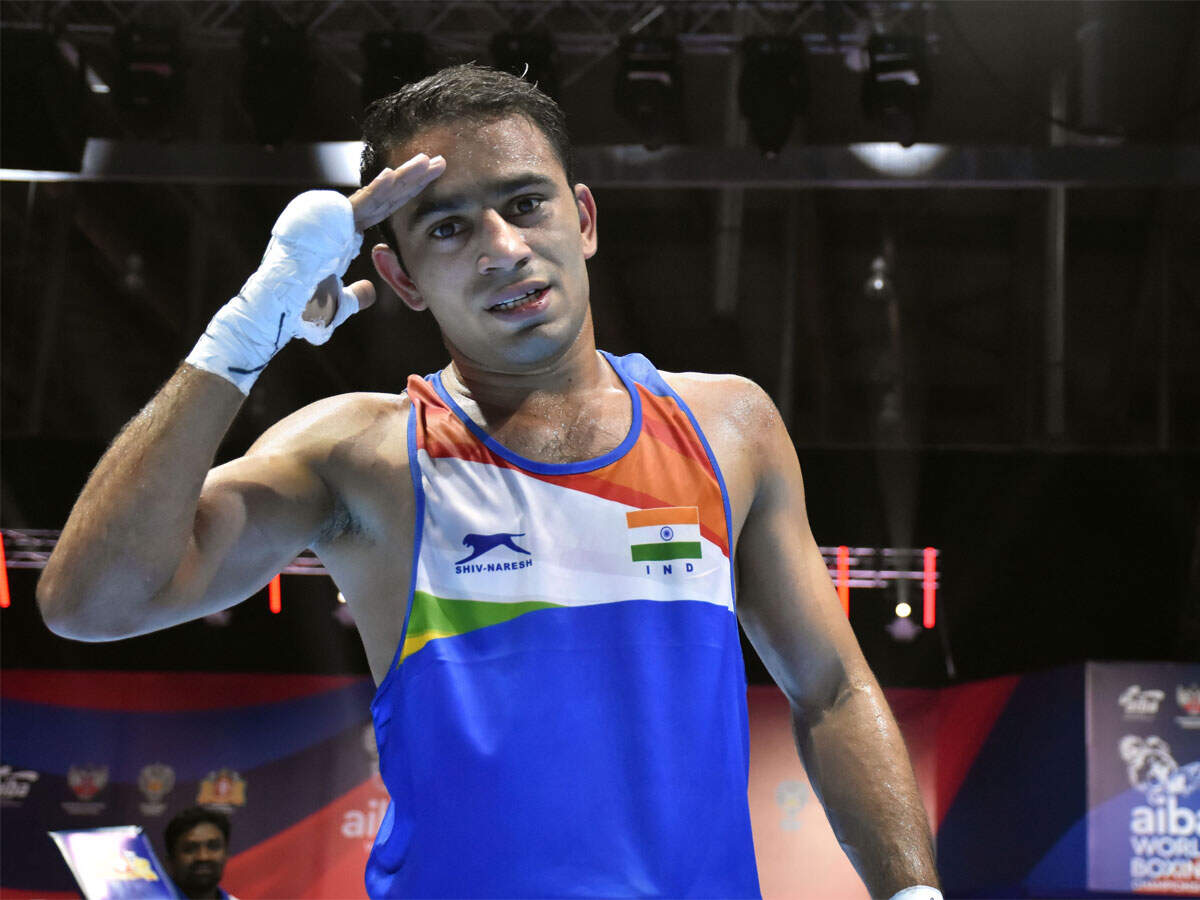 The duo's entry into the semifinals had already made it our best-ever showing at the men's Worlds, as India had never won more than one bronze in a single edition. Kaushik has become the fifth Indian to enter the bronze club of World Championships after Vijender Singh (2009), Vikas Krishan (2011), Shiva Thapa (2015) and Gaurav Bidhuri (2017).
Panghal was a quarterfinalist at the previous edition in 2017, while this was Kaushik's first appearance at the Worlds. Kaushik fought five matches before losing to top-seed Cruz, but in all his rounds prior to the semis, the Bhiwani boy gave ample glimpse of his boxing prowess and tactical mind. But the day belonged to Asian champion Panghal, who gave the boxing fraternity back home enough reasons to rejoice. While Amit might have made it look easy after a dominating show in the final two rounds, his trip to the final wasn't as smooth as India's chief national coach C A Kuttappa later explained.
According to Kuttappa, the strategy had to be changed midway through the bout as Amit looked to be trailing Bibbisinov after the first round. "At the start of the bout, we had told Amit to play his own game, like assess the moves of his opponent and attack accordingly. But he became defensive. He did well in the last 30 seconds of the first round where he connected a straight punch on Bibbisinov. But it was Bibbisinov who dominated Amit in the first two-and-a-half minutes," Kuttappa told TOI.

"During the break, we changed the strategy. We told Amit to play more open chest (read drop the guard) and attack him more on his face and body. We knew that our strategy had not worked in the first round, so we told Amit to go for his favourite cross punches and overhead punches. We wanted him to lunge forward and attack. Amit did well to land those overhead punches which are more effective against a taller boxer like Bibbisinov. In the third round, Amit went on the offensive. He landed two straight punches on Bibbisinov within a gap of 30 seconds that clinched the tie in his favour.," Kuttappa added.

Amit said he's looking to win gold for the nation. "I had discussed Bibossinov's game with my coaches and stratigised accordingly. We had watched his boxing videos and knew that he plays with long strides, so we had a specific plan for him. History will be created when I'll return with the gold," Panghal told TOI.

Kuttappa had an interesting piece of information to share on Zoirov. "He has been specially called by the Uzbek boxing federation to compete at the Worlds. After Rio, he moved to professional boxing. In three years since Rio, he has not competed in amateur boxing," he said. "Uzbekistan's original choice of boxer in the 52kg was Hassanboy Dusmatov, whom Panghal had defeated twice earlier, but for the Worlds, Zoirov has been called. It's going to be a tricky affair now," Kuttappa said.